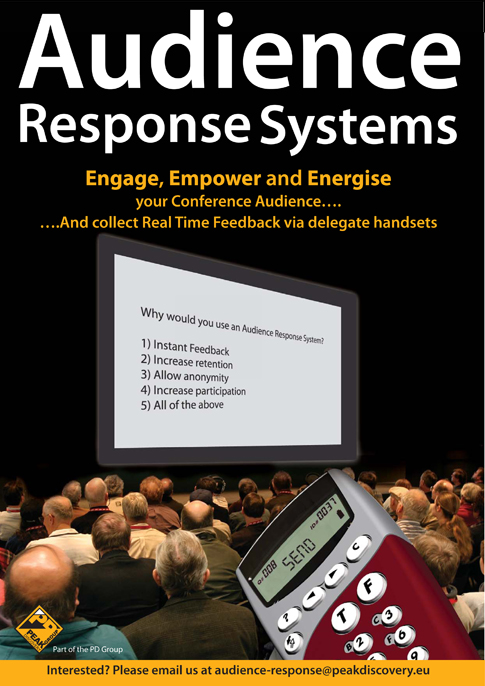 AUDIENCE RESPONSE SYSTEMS FOR HIRE IN IRELAND – Dublin, Cork, Galway, Belfast
Conference & Meeting Applications –
Conference Voting

– Ensure all participants have an equal opportunity to express their opinion. Capture and display voting results immediately.
Q & A sessions

– Question and answer sessions are great opportunities to gain insight into your delegates' opinions.
Anonymous & Honest Feedback

– The handsets give the whole room a voice, providing a much higher level of feedback than traditional paper (almost 100%).
Audience Demographics

– Capture invaluable demographic data for marketing and lead generation purposes using interactive keypads.
Interactive Quizzes

– Enliven the atmosphere at your meetings and events with exciting interactive quizzes that are guaranteed to have your audience gripped!
How it Works –
It's a simple concept:
Pose a question to your audience verbally or through Powerpoint
Your audience submit their answers via their own wireless personal handset (or one handset per small group – 'Huddle & Vote')
You can then view results privately or show them in real time to entire room on projection screen
After session you can view results in excel, flash or pdf format
AUDIENCE RESPONSE SYSTEMS FOR HIRE IN IRELAND – CONFERENCE VOTING / SMS VOTING / ELECTRONIC VOTING MACHINES